Exilis Elite Skin Tightening

Tighter, Firmer, More Youthful Skin
Exilis Elite takes skin tightening to the next level with virtually pain free, noninvasive treatments. The technology of the newly upgraded Exilis Elite uses safe Radio Frequency energy to stimulate the production of collagen, tightening skin to reduce the appearance of sagging, loose skin, minimize unsightly jowls and promote a more vibrant, youthful look. Contact Allure MD Spa and Wellness Center in Marlboro Township of Monmouth County Central New Jersey at 732-851-7005 to book your free consultation for Exilis Elite skin tightening procedure.
Visible Results…Faster
The new more powerful Exilis Elite can do in 2 – 3 treatments what took the original Exilis 4 – 6 treatments to accomplish! Clients often see skin tightening results right away. Over time and with follow-up procedures, your results will be even more visible as new collagen develops and wrinkles smooth out. You may notice a slight redness after the treatment, which should disappear in less than 2-4 hours.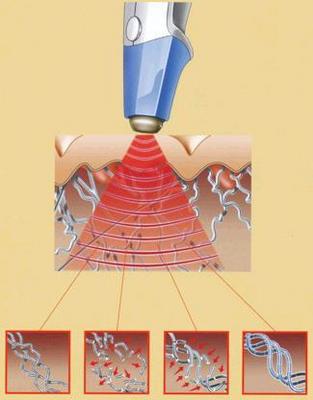 Collagen Refill Technology (CRT)
Exilis Elite achieves skin tightening by rejuvenating collagen through a patented duel energy system called Collagen Refill Technology.
How CRT Works:
The collagen fibers triple-helic structure is affected by heat and this initiates the unraveling process.
The focused energy disrupts collagen fibers.
The controlled thermal effect quickly and efficiently dissociates the collagen structure.
The natural healing process evokes fibroblasts to actively produce new collagen fibers.
The skin structure is refilled with new collagen
New collagen is what improves wrinkles, gives you the smooth texture, elastic quality and beautiful radiance of youthful skin. Depending on the size of the treated area, a treatment may take from 20 to 90 minutes.

Before and After Photos


Click here to see Before and After photos
Exilis Elite Skin Tightening FAQs
What is the Exilis Elite procedure? How does it work?
During the session, the Exilis Elite computer-controlled device is guided over the treatment area. Patients feel a warming sensation as the Energy is delivered to the deeper layers of skin. The ability to focus the Energy on specific areas at the targeted depth of penetration makes Exilis Elite a highly effective aesthetic solution. The device engages the cooling system to heat deep tissue as its constant monitoring of the skin's temperature facilitates a comfortable, even treatment. To favorably influence the upper skin layers, only controlled heating is engaged to redefine loose skin and smooth wrinkles. Thus, the Exilis Elite causes the collagen supporting tissue to remodel, thereby stimulating and strengthening the collagen network to improve skin laxity and texture.
How many treatments will I need? How long do the results last?
The recommended course of treatment with the new Exilis Elite is generally two to three sessions, every two to four weeks. You can have additional treatments if desired. Patients show persistent results at least six months after the Exilis Elite treatment.
Is it safe?
Exilis Elite has been tested in clinical studies and proven to be safe and effective. It has been cleared by the FDA in the U.S. for use in dermatologic and aesthetic procedures.
What about recovery?
Some pinkness on the treated area may last for about 15-30 minutes. Patients should increase water intake on the day of treatment and the day after, and should engage in light exercise such as walking to enhance cosmetic results.
What are the side effects?
There have been no significant side effects reported with Exilis Elite treatment.
Who is a candidate for Exilis Elite Skin Tightening?
Exilis Elite is recommended for any patient between the ages of 25 and 70+ who desires cosmetic improvement, particularly those areas that show the signs of aging, unhealthy life style and have not responded to other treatment options. Exilis Elite treatment offers cosmetic improvement without surgery.

Learn More About Exilis Elite Skin Tightening at Allure MD Spa in Morganville, Marlboro Township, Monmouth County, Central NJ by calling 732-851-7005
Click here for more information