Medical Weight Loss

Allure MD Spa & Wellness Center Program
At Allure MD Spa & Wellness Center, we evaluate each client individually and prescribe approved and off-label medications to help our clients lose weight and keep it off. We have top-of-the-line equipment and custom computer software to plan each client's weight loss program, keep track of weight loss progress, and design and manage nutritional intake and optional exercise. Using advanced Tanita BC-418 Pro Segmental Body Composition Analyser we can measure and analyze client's separate body mass readings for the right arm, left arm, trunk, right leg and left leg. Within seconds we get complete body composition profile, including: Weight, Body Fat Percentage, Body Fat Mass, Body Mass Index (BMI), Fat Free Mass, Estimated Muscle Mass, Total Body Water and Basal Metabolic Rate. Here are some sample reports: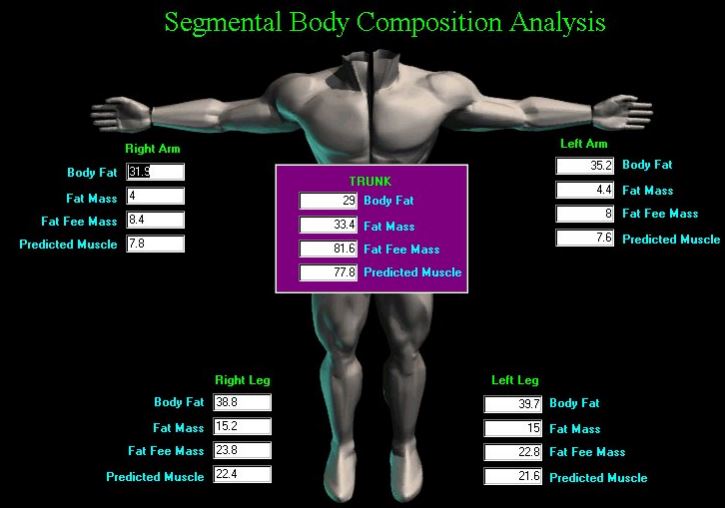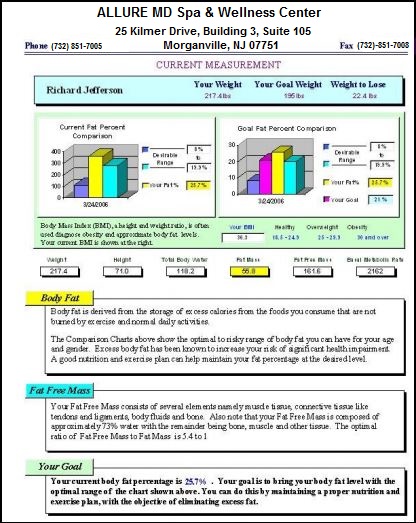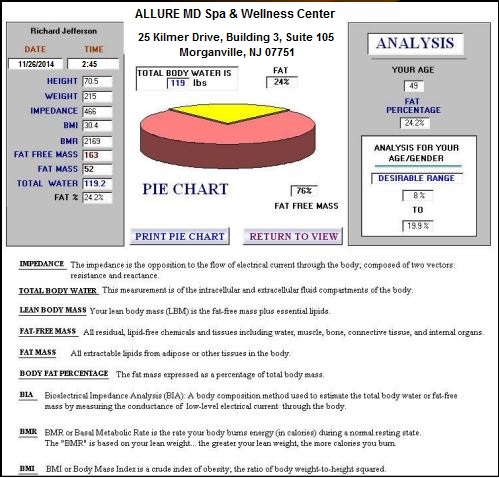 America is Overweight
If you want to lose weight, you're in good company. 2 out of every 3 adults in the United States are overweight or obese. A recent survey found 62% of adults are dieting and 18% are constantly on a diet. In spite of all this effort, infomercial weight loss products, health club memberships, diet pills and potions, the number of people declared to be obese is increasing. The National Institutes of Health and other studies show that 98 percent of people who lose weight gain it back. And 90 percent of those gain back more weight than they lost.
Frustrated by Weight Loss Programs
Many of you have tried Jenny Craig, Nutrisystem, Weight Watchers, South Beach, Atkins, Sugar Buster, Medifast, Eat Right 4 Your Type, read countless books on weight loss, increased your exercise and maybe even contemplated gastric bypass or lap-band surgery.
Don't Wait Any Longer
Your search is over. Join the growing list of our grateful clients that are now enjoying their new vitality and healthy bodies.
Learn More About Medical Weight Loss at Allure MD Spa in Morganville, Marlboro Township, Monmouth County, Central NJ by calling 732-851-7005
Click here for more information