IPL Photofacial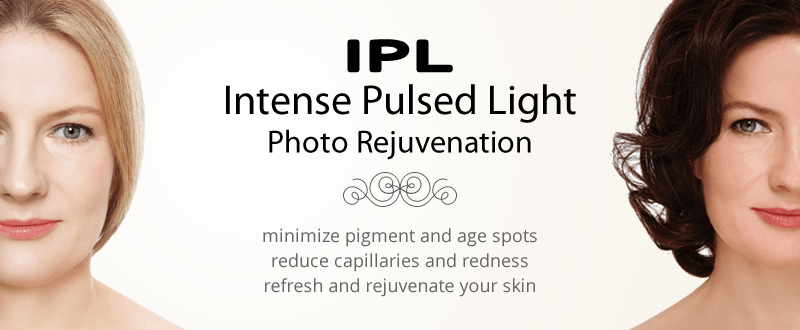 Better Looking Skin in the Flash of a Light!
The signs of aging go beyond fine lines and wrinkles. Photo damage is the result of a lifetime of ultraviolet light exposure. The visible signs include pigmentary changes, course skin texture, spider veins, facial redness, enlarged pores, and of course, wrinkles. Intense Pulsed Light treatments are designed to combat the effects of aging with a gentle approach.
What is IPL Photofacial?
Intense Pulsed Light, commonly known as IPL, delivers high intensity computer controlled pulses of light that penetrate the skin and heat the sub-surface layers. The heating action damages or destroys problem conditions like excess pigment and unwanted spider veins, while stimulating healthy, new collagen. A series of IPL photofacial treatments can offer the benefits of a medium depth laser resurfacing or chemical peel without blisters, burns or long recovery time.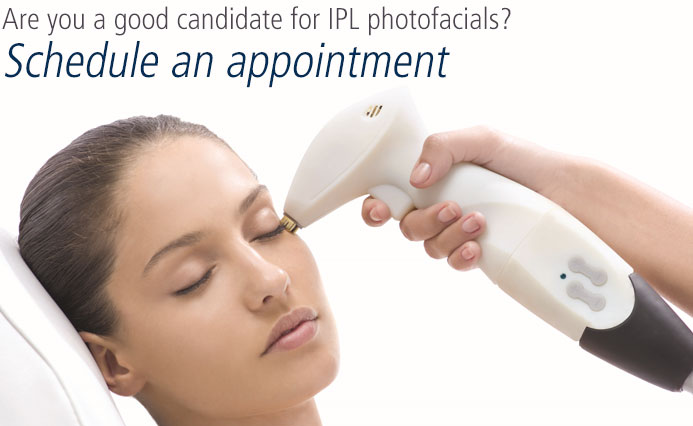 Who are the best candidates for IPL Photofacial treatments?
These treatments are best for those who have:
Red, flushed faces (This can be reduced by 80 to 90 percent!)
Sun-damaged skin (anywhere on the body)
Hyper-pigmentation
Enlarged pores
Who is not a good candidate for IPL Photofacial treatments?
IPL is not a safe option for clients with darker skin types such as African American, south Indian and some darker Middle Eastern skin tones. Chemical peels or the new eMatrix are safer, more effective choices for clients with darker skin who want to treat pigmention issues.
What are Photofacial treatments like?
Generally, 3 to 6 treatments are recommended at 3-4 week intervals. Each full-face treatment takes about 30 minutes, other body areas may take a little longer. Many clients describe the sensation to be like the snap of a rubber band on the skin. There is no discomfort following the treatment. The depth and degree of heat is highly controlled, so there are few risks and you may resume most normal activities right after an IPL photofacial treatment. Your skin may appear flushed, and tiny capillaries may appear more visible. Brown spots can also appear darker and you may experience some slight swelling, but all these changes fade over a period of hours to a few weeks.
What Results Can I Expect?
Beginning with your first treatment, your skin will have a more even tone, with a smoother look and feel. Sunspots will fade, pore size will shrink, and fine wrinkle lines are reduced. Skin redness, flushing and dilated capillaries gradually decrease. IPL Photofacial treatments offer a very high measure of patient satisfaction. A recent study showed that 96% of IPL photofacial clients would recommend the treatment to others. Begin your series today and restore natural beauty to your skin with no downtime!

Before and After Photos
Click here to see Before and After photos
IPL Photofacial FAQs
IPL photofacial, also known as IPL photorejuvenation, is a procedure designed to stimulate and encourage healing and regeneration of the skin through the application of a broad-spectrum light. "IPL," in fact, stands for "intense pulsed light". While this therapy is not as concentrated as laser treatment, it can nevertheless have incredibly beneficial effects on the skin.
What is intense pulsed light (IPL) therapy?
The IPL photofacial involves the use of an intense beam of broad-spectrum light (as opposed to lasers, which operate within a very specific wavelength) that targets the dermis, the lower layer of the skin. The procedure simultaneously removes damaged and photoaged skin while stimulating collagen growth. IPL photorejuvenation therapy can improve the color, consistency, and texture of the skin all at once.
What does IPL photofacial treat?
IPL photofacials can treat a wide variety of skin problems. They can be used to remove redness from broken capillaries and can help with rosacea. They can treat brown spots and freckles from sun damage and can also help to smooth uneven skin texture and close large pores.
Are fotofacial, photofacial, and photorejuvenation the same thing?
Yes. These terms all refer to skin rejuvenation treatments using IPL.
Is IPL photorejuvenation safe?
IPL photorejuvenation is one of the safest light-based skin rejuvenation treatments available. Most clients experience little or no pain during the procedure. Some patients have reported that the light pulses feel similar to a light "snap" from a rubber band. There have been few reported long-term side effects of IPL photorejuvenation, and the most common side effects — redness, minor swelling, and inflammation — usually go away within a few hours to a few days after treatment.
What results can I expect after IPL treatment?
Immediately after your treatment, your face will appear slightly red or flushed, but this is completely normal. It will take several hours to a day or so for the treatment's results to become noticeable. The redness will fade, and you will see improvements more and more. Depending on the condition you are treating, your experience will differ. For example, if you are treating a lot of brown spots or freckles, the areas may get darker before fading or flaking off in a few days to a few weeks. Though recovery from IPL photorejuventation is rapid, it is important to keep in mind that sunscreen is vital to ensuring the results of the procedure last as long as possible. Be sure to protect the treated area from the sun for at least a couple of weeks, either by covering the area or wearing strong sunscreen.
Are multiple treatment sessions recommended?
Depending on the area being treated and the severity of the problem, multiple treatment sessions may be recommended. For many problems, clients will need between three and six initial corrective treatments followed by periodic maintenance.
Are there side effects associated with IPL photorejuvenation?
Most reported side effects of IPL photorejuvenation are mild and resolve themselves within a few hours or days of treatment. The most common side effect is facial redness or flushing. Small capillaries may appear larger immediately following treatment as well — but don't worry; this is common and will fade quickly. In rarer instances, mild bruising and swelling may occur, but this too will go away within a day or so. Permanent side effects from photorejuvenation are extremely rare. Ready for better looking skin?

Learn More About IPL PhotoFacial at Allure MD Spa in Morganville, Marlboro Township, Monmouth County, Central NJ by calling 732-851-7005
Click here for more information