Spider Veins Removal


Many people are affected various skin conditions, either chronic or cosmetic, which cause unsightly broken blood vessels, discoloration and lesions to appear on the face and leg. The reality is that these conditions can have a serious impact on quality of life, causing embarrassment, self-consciousness or even depression. Allure MD Spa & Wellness Center offers safe and effective non-invasive treatment of patients' facial and leg vascular skin conditions with our state-of-the-art "gold standard" Cutera Excel V™ laser, a new noninvasive laser system designed to deliver outstanding results, while enhancing patient safety and comfort. It can be used to treat any skin type – from very light to very dark.

How does it work?
Traditional approaches to treating spider leg veins or facial vessels are largely limited to electrosurgery, sclerotherapy, and surgical destruction of veins and vessels, each of which pose significant disadvantages. For example, electrosurgery, a procedure in which an electrode needle is used to destroy skin lesions, is rather painful and may cause craters in the skin. Similarly, sclerotherapy, commonly used to treat spider veins, requires patients to wear compression stockings after treatment and includes an injection. Excel V is a new approach to treating skin conditions designed to enhance patient safety and comfort. The system uses a unique high power green laser that is absorbed by abnormal blood vessels in the skin. This laser heats and eliminates abnormal blood vessels, ultimately restoring normal skin tone and color. The Excel V™ laser utilizes a unique cooling system for pain control which avoids the need for anesthetic injections or topical anesthesia, maximizing your comfort. The laser is adjusted to match the specific skin condition being treated. This customization not only provides greater precision, but greater effectiveness also means fewer treatments may be required. Unlike older style laser treatments which burst the blood vessels causing bruising, the Excel V™ treated vessels collapse, are sealed shut, and are absorbed by the body. The lack of bruising significantly reduces down time. The treatment sessions generally last 10-30 minutes, but can vary depending on the size of the area being treated. The amount of treatment sessions required will also vary, depending on your condition, but many patients see results after only one treatment. After treatment you can expect little or no downtime or disruption to your daily routine and no long-term side effects. It may take a few weeks to see the final result. Touch-up treatments may be desired to obtain the best possible result.
Before and After Photos
Click here to see Before and After photos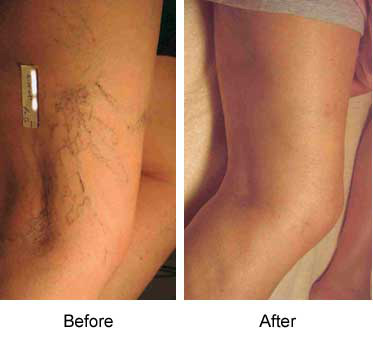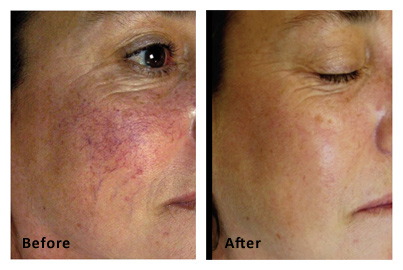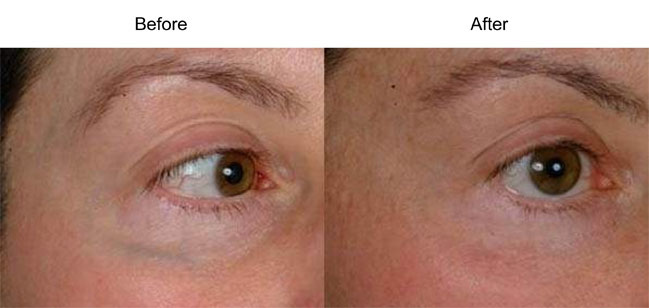 Frequently Asked Questions
How does Excel Vein Therapy work?
The Cutera Excel systems deliver pulses of light energy which cause the blood within the vein to coagulate, eventually destroying the vessel which is later reabsorbed by your body. Blood flow will then be redirected to veins deeper below your skin's surface, where it should be.
How many treatments will I need?
The number of treatment depends on various parameters, including the size, thickness and color of the vascular lesion. Superficial vascular lesions are usually easiest to treat; some patients might see significant improvement after just one treatment.
Do the treatments hurt?
Most patients experience a stinging sensation as the pulses of energy are delivered through the handpiece. Although no local anesthesia or pain medication is typically required, many patients opt to use a topical anesthetic prior to treatment. Following the treatment, the pain is minimal to nonexistent.
What are the possible side effects?
Although many patients report few if any side effects, those most commonly noticed are slight reddening and local swelling of the skin. These effects typically last for less than 24 hours. Some patients may experience bruising and, in rare instances, blistering may occur. Consult with your medical professional for complete information on the benefits and risks of treatment.
When will I see results?
Most patients find that the majority of the treated veins have shown significant improvement within two to six weeks of treatment. However, your final results may not be apparent for several months. Over time, it is possible for new veins to appear, but these too can be removed with the Cutera Excel.
How much does Excel V skin treatment cost?
Our pricing is very competitive, and we offer free consultations with Dr. Kogan. We also offer convenient monthly payment plans through CareCredit. To learn more, click here to set up your free consultation.
Before treatment:
Do not wear makeup on the day of treatment.
No sun-tanning or self-tanners 4 weeks prior to treatment.
Some medications or supplements may increase the risk of bruising.
Avoid treatments that may irritate the skin for 1-2 weeks prior to treatment (waxing).
History of cold sores may require an anti-viral prescription prior to treatment.
After your treatment of Vascular and Pigmented Lesions:
Avoid sun exposure and use a broad spectrum (UVA/UVB) sunscreen to prevent further sun damage.
Bruising, redness and swelling are common and resolve with time.
A "Bug bite look" is common and usually resolves in 1-2 days.
Avoid heat and hot tubs for 1-2 days.
Avoid irritants a few days post treatment: Products containing tretinoin, retinol, benzoyl peroxide and glycolic/salicylic acids.
Learn More About Spider Veins Treatment at Allure MD Spa in Morganville, Marlboro Township, Monmouth County, Central NJ by calling 732-851-7005
Click here for more information