Stretch Marks Reduction

What Are Stretch Marks?

Although stretch marks resemble scars, they actually are not. Instead, stretch marks appear the way they do because the upper layer of skin is laying over gaps in the lower layer of skin that have been created by stretched or torn elastin fibers. These unsightly marks often appear following rapid gains in body size that abruptly stretch the skin. Stretch marks often originally appear as bands of wrinkled skin, starting out as pink, red, or purple streaks, and then later becoming silvery white. Stretch marks often appear during times of hormonal changes such as puberty or pregnancy. In fact, about half of all women develop them on the abdomen or breasts during pregnancy. Since the tendency to develop stretch marks appears to be inherited, there is no sure way to prevent them.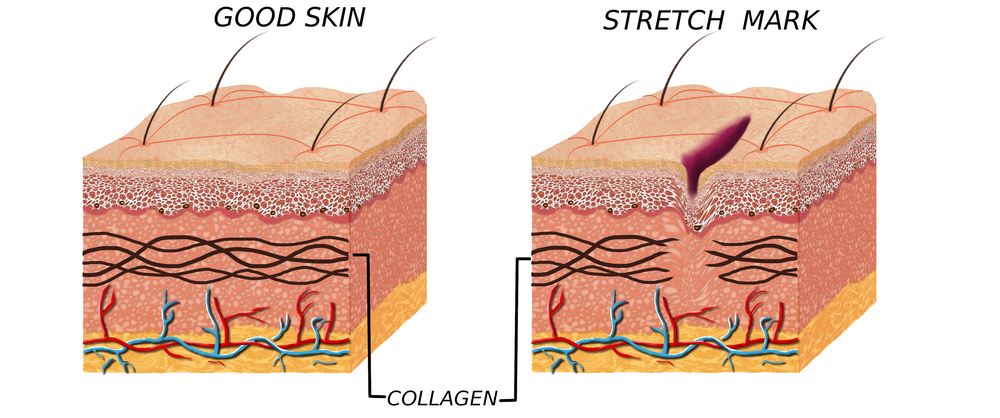 Can Stretch marks be improved?
It is often possible to improve the appearance of stretch marks. Overall, newer stretch marks respond better to treatment than stretch marks that are several years old. In general, some patients respond better than others so it is difficult to determine how much improvement any one individual can achieve. The appearance of the stretch marks might be improved minimally, or even up to 60% – 80% or better.
What are Allure MD Spa & Wellness Center's methods for stretch marks reduction?
At Allure MD Spa & Wellness Center, in central New Jersey, we have the following technologies to improve the appearance of stretch marks:
Sciton laser pro-fractional resurfacing procedure + SkinTyte

The Sciton™ ProFractional™ uses laser energy to create thousands of microscopic channels in areas of the skin, while not affecting the surrounding areas of untreated skin. The damaged areas stimulate the body's natural healing process, and promote production of new collagen and fresh skin cells, greatly improving uneven pigmented areas, plumping up the skin and smoothing out wrinkles, lines, scars and other irregularities. It is more comfortable than other similar treatments, and allows for faster healing. The SkinTyte™ procedure utilises broadband laser light energy to deeply heat dermal collagen. This process promotes contraction of the collagen, and also initiates the body's natural healing process, which creates a renewed collagen foundation leading to increased skin firmness. Powerful cooling mechanisms maintain the outer surface of your skin at a comfortable temperature before, during and after each pulse, providing you with a comfortable and safe procedure.
Palomar Icon 1540 laser resurfacing procedure

Palomar Icon 1540 laser resurfacing procedure uses fractional, non-ablative laser for skin resurfacing and the treatment of surgical scars, acne scars and stretch marks – the only FDA cleared laser for this treatment. The various Microlenses allow for customized treatments; the XF Microlens for high speed, quick treatment sessions or the XD Microlens for deeper penetration to reach tough conditions such as scars and stretch marks.
Sublative Rejuvenation with eMatrix

Sublative Rejuvenation with eMatrix which uses fractionated bi-polar radio frequency to penetrate through the skin–sending more energy beneath the surface of the skin to really maximize collagen production–while keeping the top layer of the skin intact. This is an important factor in why it's safe for all skin types and results in very minimal recovery time. Unlike other treatments such as dermabrasion and fractional ablative laser treatments where most of the effect is in the superficial layers of the skin (epidermis), the eMatrix affects only 5% of the epidermis and most of the effect is in the deeper tissue (dermis).
How many treatments are needed and how soon will I see results?
Generally 3 – 5+ treatments done at four week intervals will be needed. Newer or thinner stretchmarks may need fewer treatments than older or wider stretch marks. Clients often start to see results after one or two treatments. Over time and with follow-up procedures, your results will be even more visible as new collagen develops.
Does the treatment hurt?
While pain tolerance is an individual matter, most people tolerate treatments well, and describe the sensation as a slight snap to the skin followed by a heating or "sunburn" sensation. Anesthesia is not needed, post-treatment cold compresses are an option for sensitive areas.

Before and After Photos
Click here to see Before and After photos
Learn More About Stretch Marks Reduction at Allure MD Spa in Morganville, Marlboro Township, Monmouth County, Central NJ by calling 732-851-7005
Click here for more information