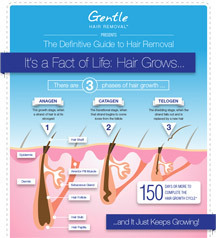 Who is Laser Hair Removal for?
Cynosure Elite MPX hair laser allows Laser hair removal for everyone. It's safe for all skin types, hair types and most hair colors. The treatment process is permanent, predictable, and virtually pain-free. What areas can be treated? Any area can be treated – if you have hair where you wish you didn't, this treatment is for you.
What areas can be treated by Laser Hair Removal?
Any area can be treated – if you have hair where you wish you didn't, this treatment is for you.
How many laser hair removal treatments will I need?
Everyone is different and there are a number of factors that can affect the success of a series of laser hair removal treatments, but generally, after each treatment, you'll see a noticeable, permanent reduction in the number of hairs that regrow in the treatment area. Typically, it will require 5 – 8+ laser hair removal treatments to permanently reduce the number of regrowing hairs by 75 – 90%. Due to the power and effectiveness of Allure MD Spa Cynosure Elite MPX hair laser, fewer treatments will generally be needed than with other hair lasers. People with light skin and dark hair may only need 5-6 laser hair removal sessions. People with darker skin or finer hair will generally need more sessions.
Will I need any recovery time?
The appearance of the treated area immediately following treatment will vary from client to client, depending on the extent of the procedure and the skin type. Side effects are rare and, if they do occur, are typically minor. They may include redness and swelling around the hair follicle, which are, in fact, positive clinical results and indicate that the follicle has responded to treatment. Most people return to normal activity right away.
How long does the laser hair removal take?
5-60 minutes per session, depending on the size and number of areas targeted. Hair reduction with the Cynosure Elite MPX hair Laser with the new 24mm spot size requires 50% – 75% less time to complete each treatment compared to any other hair removal laser.
Treatment Area

Average

Treatment Time

…and Now

with Cynosure Elite MPX

% Time

Reduction

Back
60 min
15-20 min
65-75%
Chest
40 min
15 min
67%
Shoulders
20 min
10 min
50%
Underarms
10 min
4 min
60%
Full Legs
60 min
20 min
67%
Lower Legs
45 min
15 min
67%
Bikini Area
15 min
5 min
67%
Is there anything special I need to do before each Treatment?
We will provide you with complete pre and post care instructions. In general here are some important things for you to do (or not do) prior to your laser hair removal treatments:
Shave the treatment area 12-24 hours before your treatment
Do not wax, pluck, tweeze, use bleaches or hair removal creams during your treatment series.
Avoid sun exposure, self tanners and tanning beds 1-3 weeks before treatment.
Use sunblock with SPF 30 on areas to be treated that are exposed to the sun.
Do not take Accutane for 6 months prior to treatment.
Learn More About Laser Hair Removal at Allure MD Spa in Morganville, Marlboro Township, Monmouth County, Central NJ by calling 732-851-7005